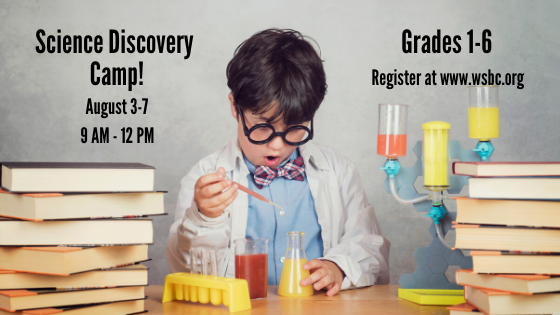 WHAT: A week of exciting experiments, fun games, and great learning about our world! Students will engage with science through hands-on activities and discover more about the Creator responsible for it all.
WHO: Students entering 1st-6th grade in the 2020-2021 academic year
WHEN: August 3-7, 2020 from 9 AM – 12 PM; snacks provided
WHERE: West Shore Baptist Church at 2025 Market Street, Camp Hill, PA 17011
HOW: Register online at https://westshorebaptist.churchcenter.com/registrations/events/455937
COST: FREE
COVID-19 Precautions: We will be observing social distancing protocols and adhering to CDC recommendations for camps, including intensive disinfecting of the building. Registration is limited to 20 campers who will be divided into smaller groups. All staff and campers (as well as parents during pick-up/drop-off) will be asked to wear face cloths for everyone's safety.
For further information, call 717-761-0942 or email mail@wsbc.org.